Those looking to further their future in Human Resources can take heart from the fact that in our current business environment, HR has a more vital role than ever. In helping companies to future-proof the organisation, HR leaders now help lead business transformation from a people perspective. With this in mind, what should HR professionals look for in their next company role? And what skillsets will determine those who rise above the rest and into the hottest HR jobs of the next few years? We spoke to a collection of Asia-Pacific thought leaders, to find out exactly that.

1. Eye the most in-demand HR skillsets
While we all appreciate that companies post exciting new roles for purpose-ready HR talent each week, the decisions that job seekers in Human Resources make now regarding their new skillsets could make a big difference to their career prospects. As we explored previously, data and technology HR roles in particular are now in hot demand – particularly those that harness value data sets and new people-centred organisational technologies, to give their firm a critical market edge.
So what are the most in-demand skillsets for these roles? As this detailed HR skills map (source: SkillsFuture) demonstrates, the skillsets for future roles in the discipline are more clearly defined than ever for future job seekers. For those in data analytics for instance, success will increasingly lie in applying data governance concepts; resolving data quality challenges; and correlating financial and HR data to design metrics. Given these skillset groups are clearly articulated and explained in advance, the job search process increasingly involves creating your own skills map – articulating those transferable skills that you've acquired to date – and then exploring the prospects for further training and development within your next role.
2. Survey the company's commitment to training
Companies hiring top HR talent are mindful these days that aside from a job description, ambitious new recruits seek out a clear training agenda. As Philip Otley, Partner in The Experience Centre for PwC Digital Services told PageGroup recently, preparing for a life-long education process is increasingly part of the job-seeking process, particularly in Human Resources: "Universities are waking up to the fact that sometimes in the time it takes to do the degree, in that time, the changes that have happened can see you needing a very different role that when you started," he says. "As a result, universities and educational institutions are going down the path of looking at micro-credentialing – looking at student-based education, in terms of business people defining their own ongoing education path through life," he says.
In a work sense, this will mean employees being supported through their training with in-class and experience-based projects on the job. As such, HR leaders with a track record of building a learning culture will be at a premium. As Anthony Thompson, Executive Board Director and Regional MD at Michael Page notes, this requires flexibility on the part of education providers. "The urgency of more lifetime learning, and more in-job training, will surely force traditional education to get with the programme to ensure tomorrow's talent is prepared and match-fit for work – whether they are 24 or 44 years of age. Because if the current education providers don't do it, then new providers will step in and take their place."

3. Invest in the change appetite and vision of the leaders
While much is written about companies screening potential senior hires, the same applies to those seeking job opportunities as HR professionals. So what's the best advice for HR professionals looking to assess the merits of their future employers? "That answer is simple for me – the leadership," notes Catherine Ng, Engagement Practice Leader at Aon. "Depending on where the role is in the company, ideally as a candidate you'd want to interview the CEO." Given this is not always possible, understanding the leadership philosophies of the company becomes key – especially how these relate to people: "I think in this era of company revitalisation and finding new ways of doing things, the most important aspect for HR employees lies in the vision and the purpose," she says. Given change is a constant now, a leader's ability to steer the ship becomes critical. "Nothing is going to stay constant for too long – so it's really about the guiding directions and guiding principles. These have to come from the top leadership," she says. "That's the clearest factor if I was to assess any organisation in terms of how likely they are to be successful in the future."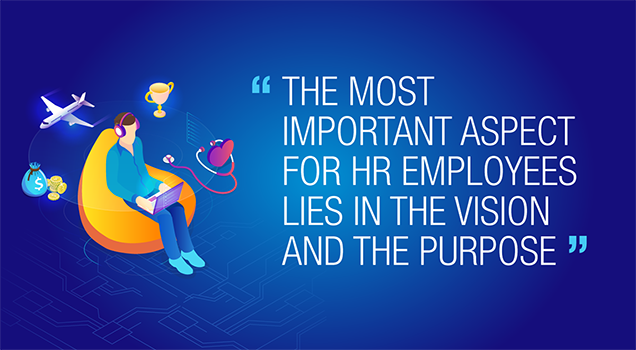 4. Explore the full range of HR opportunities
Even today, many entering Human Resources do so in a particular corner of the industry or from outside it, unaware of the full suite of roles, specialities and skillsets demanded today to service the people needs of leading companies. As Greg Tadman, PageGroup's Regional Human Resources Director Asia Pacific notes, there's probably never been such an exciting time to pursue an HR career: "It's a broader industry than it used to be, and a more commercial one. And it's certainly a more influential and impactful industry," he says. "For me, the beauty of it is how it's broadened: from hiring and talent acquisition, to how you develop people, to having a specialist-generalist angle. Now we see everyone from front-facing business partner driving value, to those cranking the handle on paperwork, filing, payroll and work passes," he notes. "For those people who crave a human element, and study psychology for instance, then HR is a great place to be. And yes, for those keen to get into it, it's definitely a more attractive and more interesting place to be."

5. Does the company invest in its people?
One important pillar of PwC's extensive study of the Future of the Workplace to 2030 is that companies must invest in people not jobs, or as it notes: "Nurture agility, adaptability and re-skilling." As Philip Otley notes though, while the reality of our future workforce is that many of our current roles will be disrupted by automation, good companies will invest long-term in their talent, transitioning them to higher-order roles. "In the job neighbourhood, what are the jobs not likely to be disrupted, yet that require a similar base-level of capabilities? Jobs that stretch across the 'neighbourhood' we're in, whereby the person can add significantly more value than they are now," says Otley. These companies with a people-first attitude will be the ones to invest in, he advises. "That's a very 'foot-forward' approach. It requires a bit of work, but it is treating the employee and the person as an asset – and it's not assuming that there's a cookie-cutter person that can't change."
With this in mind, consider two things: firstly, learn more about the future face of HR – towards a more "people operations" focus, emphasising skills in hot demand, namely learning agility, creativity, business and people acumen and storytelling. Ultimately, choose a company that has truly invested in moving talent along this path. As PageGroup's Anthony Thompson notes, a lack of investment in talent could be a likely sign of future trouble. "Let's get this straight: protecting people and not jobs is not just a moral imperative. It's commercially essential as well," he notes. "Any company that aims to bypass its community's interests and our fundamentals of culture, ethics or morality, surely won't be in business too long."

Like what you read? Subscribe to our blog now or continue to read similar articles: