While Malaysia's economy slowly recovers and the hiring market improves two years into the COVID-19 pandemic, organisations continue to take an agile approach to workforce planning, hiring contractors where needed.
Even before COVID-19 hit [us] in 2020, many organisations were already employing contractors as a way to scale their talent needs
More companies realise the value of flexible recruitment strategies, such as hiring contract professionals to keep their workforce adaptable and dynamic. And with that, the need for short-term skills sets will rise, creating more competition for contract talent.
For a company to present itself as attractive to contract talent, it must communicate its brand values, benefits package, career opportunities, and corporate culture and work environment in ways that resonate with the contractors it wants to hire.
Related: Contracting on the rise in Malaysia as a flexible staffing solution: survey report
Marlinda Zulkifli, Head of Page Contracting Malaysia, says, "Even before COVID-19 hit [us] in 2020, many organisations were already employing contractors as a way to scale their talent needs."
"The pandemic has further highlighted the need for companies to reassess their growth strategy and operational costs. And one component that stood out was the deployment of talent, both in the short and medium-term," Marlinda adds. "Companies are facing greater levels of scrutiny on permanent headcount numbers, while others are engaging temporary and contract staff to execute ad-hoc projects."
Hiring contractors can sometimes be more challenging than expected. As reported in Page Contracting's survey report, Talent On-demand: The Rise of Contracting in Malaysia, one in four companies expressed that they had difficulties attracting and securing contingent workers for short-term contract roles.
How to attract contract talent
Companies need to convey their benefits package, project opportunities, and corporate culture and environment in ways that appeal to contractors to establish themselves as desirable employers. Ahead, strategies to help organisations attract contractors and retain them for future projects.
1) Offer competitive salaries
In order to attract quality contract hires, companies should consider providing a higher salary for contractors, especially if the role requires a longer term. This is because contractors do not have the job security that comes with a full-time position. In some instances, they do not get the same employee benefits.
Therefore, a higher salary helps to keep them motivated. The higher pay is also justified as contractors typically come with more skills than full-time employees, more exposure to different companies, and can bring a new perspective, insights and ideas to your business.
Suppose companies cannot provide salaries on par with their permanent staff. In that case, they could offer other benefits such as additional allowances, paying the contractor on a weekly or bi-monthly basis, and flexible work hours.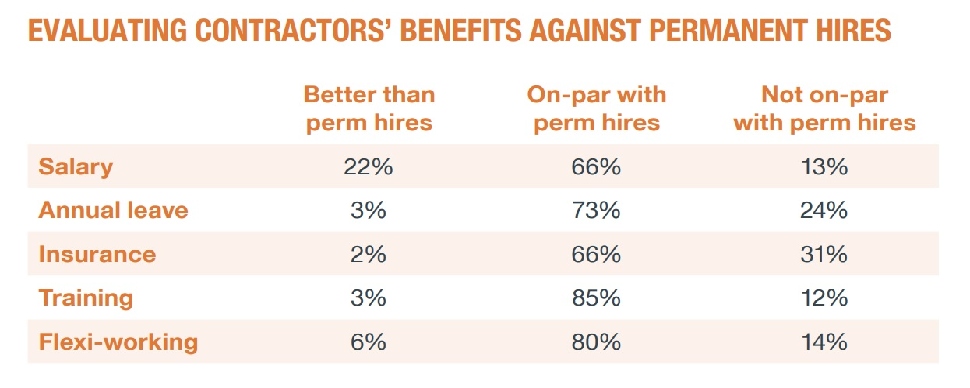 An evaluation of contractors' salaries and benefits against that of perm staff, as reported in Page Contracting Malaysia's survey report, Talent On-demand: The Rise of Contracting in Malaysia.
2) Provide benefits
One of the critical elements that differentiate an independent contractor from a full-time employee is the benefits package. Full-timers enjoy various benefits such as annual leave, life insurance, paid sick leave, childcare leave, dental care coverage, hospitalisation, maternity and compassionate leave.
Popular contractor benefits provided by some organisations in Malaysia include annual leave, medical leave, training and development programmes, health insurance and allowances.
According to Marlinda, contractor benefits are dependent on the contract role, duration and the company's budget.
"As we interact with clients and contractors daily, we have access to what companies are offering and what quality candidates are looking for. We can advise clients on the type of benefits that would entice contractors to accept a role," she explains.
Companies need to consider the nature of the contract position as well. For instance, insurance coverage should be provided if a company is looking for a manufacturing professional in a high-risk role. "Some ways to improve the benefits package are to include maternity or paternity leave, and insurance and dental care coverage as well as compassionate leave," she adds.
3) Challenging opportunities attract the top contractors
It is important to know that many contract professionals pursue portfolio careers and look for organisations that may provide them with interesting opportunities and bolster their skill sets to grow their careers.
So, when hiring contract workers, employers could consider highlighting the challenging aspects of a project that will be assigned to the contract hire. This shows the contractors how much value and impact they can bring to the company.
Related: How to develop a competitive employee value proposition (EVP) for contractors

Retain contract talent through employee experience
The goal for employee retention when it comes to contractors is to engage the same contractors again in the future when the need arises. And the best way to do this is by creating a great employee experience for the contractor. The plus side is even if your regular contractors may not be able to commit to your short-term assignment, they could recommend fellow contractors and, in turn, widen your contractor pool.
1) First impressions count
First impressions count a lot, and it starts from the contract employee's very first interaction with your company – the job interview. In some instances, contract employees are recommended through word-of-mouth and hired after a brief interview.
Other times, employers may meet the contract worker for the first time, and these contractors would go through an interview process similar to one for full-time staff.
However, unlike job interviews for full-time staff, contract professionals have a different agenda. Essentially, they want to know if the project or assignment is worth the remuneration package and the hassle of joining a company for a certain period.
After the interview process, how contract candidates feel about a company will affect how they perceive a company's job culture, work ethics, and eventually, whether or not they accept the job offer. Candidates who have a terrible experience during the interview process may share their experiences online, affecting employer branding. Whatever the case is, the job interview sets the tone for what to expect for the workplace culture at the company.
2) Onboarding is crucial too
After the job interview comes to the onboarding process – a smooth and effective transition can be critical in instilling a positive impression. This engages and motivates the new contract hire right from the beginning. The enthusiasm this generates will likely carry on to the rest of the contract period.
Related: Why an effective onboarding process is more important than you think
3) Company culture, Open communication
When hiring a contract worker, it is crucial to have open communication to help integrate contract staff with the broader team and make them feel part of the team.
Some contractors serve as subject matter experts or niche specialists who can provide valuable insights that the current team might not possess. So, when you include contract staff in the decision-making process, morale is improved, which would boost company retention.
40% of respondents from the report provide team-building exercises to help integrate contracting staff with the broader team 
It would be ideal to assign one main contract to the contractor in the company from the get-go to enhance the onboarding process for contractors. This person will be the contractor's go-to for questions and support, and can provide access to other staff members that the contractor may need to work with for the assignment.
40% of respondents from the report provide team-building exercises to help integrate contracting staff with the broader team. In addition, some companies offer a buddy system or create an environment to help ensure equality between permanent and temporary workers.
To boost further communication and encourage collaboration and community with the rest of the team, the employer should:
Define goals, expectations and project timelines.
Keep contractors updated on project changes.
Check in regularly with contractors to iron out any issues.
Provide constructive feedback.
Related: How to get the most out of contract employees
Alternative solution: Engage a recruitment agency to help recruit contractors
It can be challenging to manage permanent employees alongside contractors. One solution is to hand all contract management to a recruitment firm that specialises in contract employment.
Marlinda shares, "When companies work with us to hire independent contractors, our work doesn't stop after the contractor is hired. We assist in managing these contractors and can even cover payroll, leave and other benefits – this is also an effective way to keep headcount numbers in check for the employer."
"Our engagement team ensures the contract candidates' well-being, so their concerns are being taken care of – and they can, in turn, have everything they need to do their jobs well."

The Talent On-Demand: The Rise of Contracting in Malaysia report was developed using results from a survey conducted with leaders and executives in 205 companies across Malaysia. Download the report to learn more about the contracting landscape in Malaysia.
Looking to work with contractors? Contact our recruitment consultants to connect with the top contractors in your industry.
Read more:
Top 10 highest paying jobs in Malaysia for 2022
How to manage performance reviews during the COVID-19 pandemic
Leading Women: Navigate complex teams with respect and effective communication
Are you Hiring?
If you are an employer and would like to discuss your hiring needs, fill in the form below and we will call you back.