The Kerry Way
As an organization, we never stand still and are clear with our colleagues, customers and stakeholders; who we are, what we do, how we do it, where we are going and why we matter - we call this The Kerry Way.
Our Purpose
As the world leader in taste and nutrition, our Purpose is to Inspire Food and Nourish Life. It serves as our guiding light on our journey to make it easier and more valuable for customers to do business with us.
Our Values
The Kerry Way framework clarifies, who we are; what we do; how we do it; why we matter and where we are going and is fully aligned with our strategic growth priorities.
Our Values are embedded within the Kerry Way framework and reflect both the heritage we are proud of and our ambitions for the future.
Our core values are: Courage, Ownership, Inclusiveness, Open-mindedness and Enterprising Spirit. At Kerry, doing business with integrity is fundamental to the way we operate and the foundation for our long term success.
Our Culture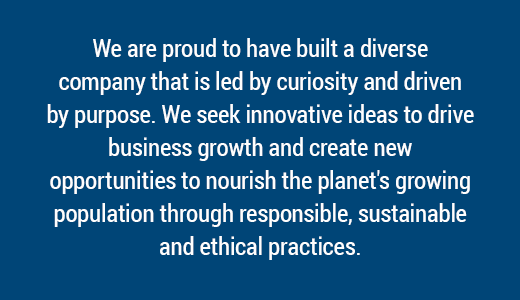 Working at Kerry