You are here
SSC leaders: A new way to approach retention
Attracting and retaining talent is a challenge in any industry. In the Shared Services industry, a high turnover rate can result in a constant drain on the business. For Malaysia, this is particularly pertinent as the market is categorised by high job volume and low availability of talent.
What are employees not telling you?
In a recent survey conducted by Michael Page of 1038 Shared Service Centre employees in Malaysia, 85% of respondents that were polled shared that they would leave their current role for the right opportunity. The top three reasons they gave, in descending order, were career development, work environment and culture, and salary or bonuses.
Further analysis revealed that these SSC employees were most dissatisfied with leadership and career progression, which ranked equally at 45%. Respondents also felt that they were only using 60% of their potential, and that given the chance would change the scope of their role, with 50% indicating that they felt they had little autonomy over their tasks.
While these figures may appear pessimistic as an indicator for the future of the industry, they present a unique opportunity to incept change that can have an impressive impact on retention rates.
Use design thinking to solve problems
In an informative workshop conducted in tandem with Human Inc, we got together with 50 of our clients to use design thinking to brainstorm solutions to increase employee loyalty, raise leadership satisfaction and achieve employee potential.
For those who are not familiar, design thinking is a human-centred methodology that helps to uncover deep insights though a thorough understanding of the problem. Whether applied to employees, consumers or clients, design thinking can be used to create relevant people-oriented solutions.
Divided into teams, we worked together with our clients to use tools such as a Persona Map and an Idea Tree to create potentially disruptive ideas and drive solutions. These tools help to build a more compelling profile of the employee and drill into the challenges that they face.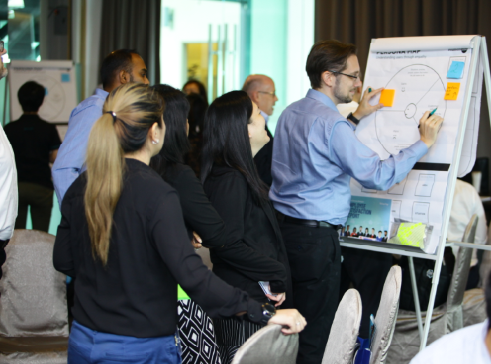 One recurring theme that came up in the session was the importance of understanding the reason why employees wanted to leave. A lack of understanding is often the source of unmet expectations and subsequent dissatisfaction.
Many of the attendees were impressed at the speed at which they were able to apply critical thinking to the otherwise complex problem of SCC employee satisfaction and sentiment to generate fresh ideas, and the unique way in which design thinking energised brainstorming sessions and provided a voice to all participants.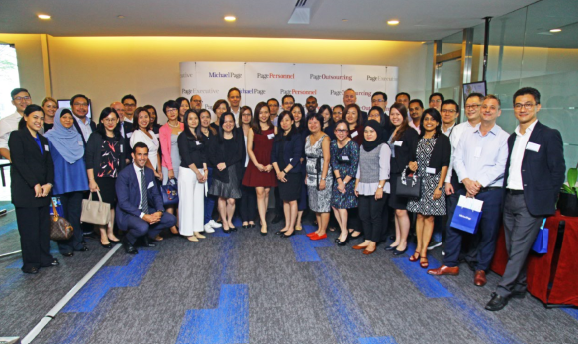 Collaboration to solve retention issues
The exchange of information between businesses in similar industries, facing similar challenges is an essential part of discovering solutions. Events such as these help bring professionals together who can collaborate, give differing perspectives on the same issue and share learnings from past experience. Attracting and retaining talent will continue to be a main focus for businesses in the near future as competition for top talent will only increase in the years ahead.
If you'd like to hear more about partnering with Michael Page, speak to us here.